Where to go eat, drink and party in Panama?
Annie's Suggestions
Panama's local cuisine infused with fresh local produce, seafood, and other unique ingredients are competing against other great well known culinary destinations in Latin America.  Panama made it to  Latin America's 50 Best Restaurants list for second time and  Maito Restaurant was on the list.
Panama offers a wide choice of restaurants to suit everyone's taste and budget. From great cuisine and international chefs to real Panamanian food experience.   I love to eat out and here are my suggestions to make your gastronomic experience in Panama City unforgettable.
IN PANAMA CITY:
One of my favorite areas to go out eat is Casco Viejo, also known as Colonial Panama.   It is a charming district of narrow streets overlooked by flower-bedecked balconies of two or three-story houses and offer an amazing some of the best options in Panama City.
AMERICAN TRADE HOTEL (Casco Viejo)  The restaurant is a fusion of international and Panamanian style.  Very good.  The Weekends brunch is my recommendation.
CALIOPE (Casco Antiguo – Colonial Section of the City, Av. Central, Edificio Teatro Amador, 3rd floor) Casco Antiguo`s first farm to table dining, using fresh and local ingredients, the chef is very creative and the food is fantastic.  My favorite is Cedula 3 if you like fish like me.  Another favorite is the Pork Belly.  Reservation is a must.  Tel:  +507 212 – 1565
DONDE JOSE (Avenida Central y Calle A – Casco Antiguo) Panamanian food with a twist.  If you want to try this restaurant we suggest you reserve with one month in advance.  Try the octopus, very good.  Open Tuesday to Saturday.  Tel:  +507-262-1682
FONDA LO QUE HAY (Calle 12 Este, Casco Antiguo) This is one of my favorite spots in Casco Viejo.  It is a local casual and very small restaurant from Panamanian chef Jose Carles.  The menu change every week and is guarantee to be phenomenal.  The tuna carpaccio is and con colon are my favorite.
TOMILLO (Casco Viejo), located in an old open building offer a great outdoors and indoors atmosphere.  With a tapas and fusion style, the food will surprise you.  This is an ideal spot to go with a group of friends and share.
TANTALO KITCHEN (Casco Antiguo) – Offers an internationally inspired tapas-style menu with a Panamanian touch. Each dish is a creative combination of local meats, fish, and vegetables with local, Mediterranean and Latin American influences.  Open:  Monday to Sunday.  Tel: +507-262-4030
BARRIO PIZZA (Casco Viejo and downtown Panama) if you like pizza this place is a must.  Different combinations and flavors and casual atmosphere.
TARRACO, (Casco Viejo), this restaurant is located inside the hotel La Concordia and is a fusion with a Spanish Twist.  If you are in the area and you like tapas, try this option.
TACOS LA NETA ( Casco Antiguo rooftop of Selina / Calle 70, San Francisco) – Very good tacos by the team of Chef Mario Castrellon.  Good guacamole, queso fundido and very nice and informal ambiance.   My favorite is tacos al pastor with their own hot sauce.  yumi.
LABORATORIO (Casco Viejo)  A creative menu.  It is a Spanish chef and the place offers a very good selection of wines.  You will need a reservation in this place.  Open:  Monday to Saturday.  Tel:  +507-211-1956
and my favorite Ice Cream Shop:  Granclement in Casco Viejo – The ice cream and sorbet is the best in Panama. The small shop offers an array of flavors made in the traditional French artisan style using the highest quality ingredients. From traditional vanilla to fresh and delicious basil, you can't go wrong with a stop into Granclement on a hot afternoon in Casco Viejo – grab a treat to go or enjoy it on the spot in their air-conditioned space.
San Francisco is becoming a trendy neighborhood for foodies.  Also, our office is located in this area.  What used to be a residential area now is a district that offers  a wide variety of restaurants and bar options in the city.   
INTIMO (Calle 27 Este, San Francisco) – Recently written up in the New York Times, this 20 seat restaurant provides unique dishes that have been created with local seasonal products.  It is a bit expensive but a really beautiful gastronomic experience.  The drinks are amazing!!  my favorite Tamarind Whisky Sour.  Tel: +507-388-1365
BRUTO (Calle 74, Edif. Midtown San Francisco, Panama) I recently tried this new chic and modern restaurant and I like the ambiance, music, and food.   This is ideal for a group dinner where you can share and try different options.   I love the brussels sprouts, the tuna tacos, and the sushi rolls.  A must try if you are in the neighborhood.  Tel: +507 390-5994
SEGUNDO MUELLE  (San Francisco) – Specializes in fresh and Peruvian seafood.  Delicious desserts, this is one of the best seafood restaurants in Panama.   My favorite dishes here are La Causa and the Peruvian cebiche.  Open:  Monday to Sunday.  Tel:  +507-391-9234
ESA FLACA RICA (San Francisco)  – In my opinion one of the best spots for burgers in Panama.  This is a food truck located in patio with a nice ambience and a wide selection of burgers.  My favorite the classic:  La Gringuita.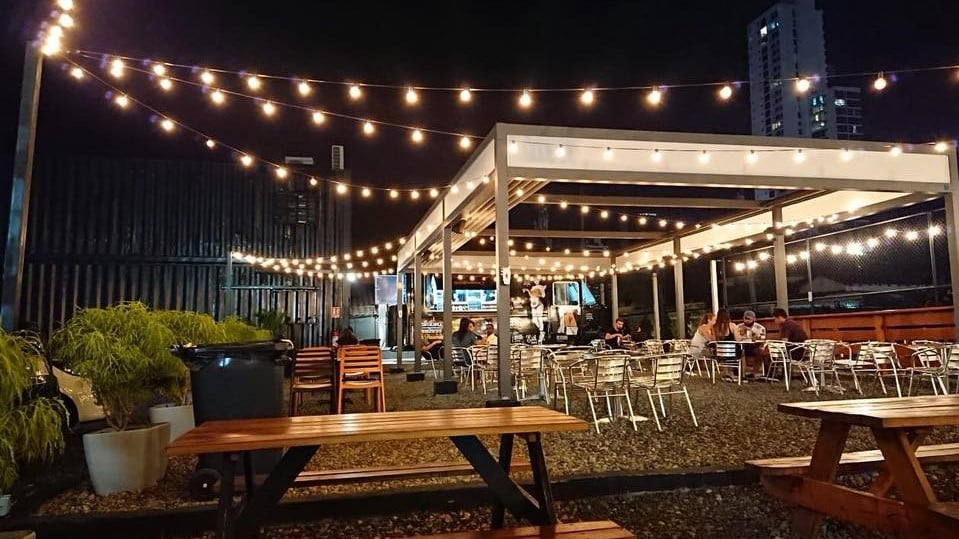 LOS AÑOS LOCOS (Calle 74 y Calle 50) – if you are a meat lover, this is a great place to go eat.
CASA STIZZOLI (Calle 73 Este San Francisco)  Very good Italian restaurant.  The pizzas are excellent and the ambience is very good.  The Kale Caesar salad is one of my favorites.
EL MERCADITO BIOLOGICO (Calle 67 San Francisco), this is one of the few organic restaurants in the area.  Love the salads and soups.  The mushrooms tacos is a must!
LA TAPA DEL COCO (Calle 68 Este San Francisco) Chef Isaac Villaverde has managed to combine the legacy of his Afro-Panamanian cuisine with his own style and flow.  Dishes loaded with sweet, sour and salty flavors, all at once in a single bite.  Must try:  River Down Po´Boy Sandwich, One Pot Colonense and Olga's cake in a Jar.
MIRANDA BAKERY & CAFE (Calle 75 & Andres Mojica) specializes in the preparation of Desserts also offer lunches with different specials every week.  There is a wide selection of sandwiches, salads and good coffee.
TAISEI RAMEN (Calle 69, Plaza SF 69)  this Ramen house combines traditional ramen richness with a Panamanian twist, always using local ingredients.  The spicy Taisei Ramen is my favorite.
Other areas in Panama City also offer amazing options:
HIKARU (Calle Anastacio Ruiz, Marbella, Bella Vista) This is one of my favorite Japanese restaurants.  Very small and cozy, the owner is a Japanese that will give you great recommendations.  I recommend the ramen and Yakisoba, the best in Panama! It is a very informal and quaint place and is always full. 
ATLANTIC & PACIFIC Co.  (The Miraflores locks at the Panama Canal) with the best view in town overlooking the Panama Canal, this restaurant offers a delicious menu created by one of the best chefs of Panama Cuquita Arias.  Fresh ingredients and Panamanian gourmet dishes.  Open: Monday to Sunday  Tel:  +507-232-312
VINOTECA (Obarrio, Edificio de las Americas) This is one of my favorite Italian restaurants in Panama.  It is a family business run by Chef Ciniglio and his daughter.  You will feel at home while eating amazing combinations with excellent wines.   Go for the chef recommendation.  Open:  Monday to Saturday.  Tel: +507-223-7734
LAS TINAJAS (Bella Vista, Calle 51) – Rustic and charming ambiance, specializing in traditional Panamanian cuisine and folkloric shows. Try "pixbae crab salad" and "Tamal de Olla." Nice typical desserts.  My favorite:  flan de coco.  Open:  Monday to Saturday.  Tel:  +507-263-7890
SAL SI PUEDES AT THE BRISTOL HOTEL – Panamanian gourmet made from the freshest native ingredients. Deserts to-die-for. Try the Crocodile Tempura and the Panamanian seafood stew (Seafood Guacho).  My favorite!  Open: Everyday.     Tel: +507-294-7890
MERCADO DEL MARISCOS – (Avenida Balboa & Cinta Costera)  – The city fish market, is Panama City's seafood haven and a paradise for seafood lovers. With over 70 stalls selling the country's freshest produce, there are also stands serving some of the best ready-to-eat Panamanian ceviche.  My favorite:  Lobster Cocktail, Jumbo Shrimp cocktail, and ceviche combinación.  Open:  daily.

LA POSTA: (Calle 49, Bella Vista) – A real secret, hidden away from the noise. It is in a house from the last century. Try the homemade bread and pasta, fresh seafood and my favorite El chuleton chiricano. This restaurant is an old and beautiful house with a very nice decoration.  Open:  Monday to Saturday.  Tel: +507-269-1076
IL POMODORO (El Cangrejo) – In very nice outdoor ambiance the restaurant offers a wide variety of Italian specialties, including pasta, pizza, meat and seafood dishes. Casual and pretty, with delightful internal patio setting. Finish up with the rum cake. The Wine Bar next door, by the same owner, is also one of Panama's best wine & cheese spot.  Open:  Monday to Sunday.  Tel: +507-269-5836
SIETE MARES (El Cangrejo) – Serves Atlantic and Pacific Ocean delicacies in a new and luxurious setting. Specializes in seafood and has an extensive wine list.  Open:  Monday to Sunday.  Tel: +507-264-0144
MARTIN FIERRO (El Cangrejo) – Specializes in fresh Argentinean-style meats and seafood.
Dishes arrive at your table sizzling from the grill!  Open:  Monday to Sunday.  Tel: +507-264-1927
LULA by Darna (Avenida Samuel Lewis, Plaza Obarrio)  If you are looking for a Kosher restaurant this is a very good option.  It offers excellent cuts of meat, fresh fish, and amazing bread.  A good place for a Kosher meal on the road.    Also, visit DARNA in Paitilla a good place for bread and sandwiches Kosher style.
MAITO (Via Cincuentenario y final de Calle 50) –  An old house converted into a modern restaurant.  It offers a great atmosphere, delightful cuisine, and extremely accommodating service.  My choice here is Rissotto Colon and Calamares Rellenos.  Made it to the list of 50 Best Restaurants in Latin America.
MASALA (Bella Vista, entre Calle 44 y 45) – Great Indian food and if you are vegetarian this is a very good option.  Here my options are Mango Lassi and Butter chicken.
OINK HOUSE (Centennial Plaza the trailer cars in the parking lot) This is one of my favorite joints for burgers, very good ingredients and the owner is one of the chefs.  Nice atmosphere, cool music and a good selection of beers.  If you like pork like me, try the pork burger another favorite is the cabernet meat burger.  The dessert selection is interesting with fried oreo cookies and ice cream.
PATAGONIA GRILL (Via Cincuentenario y Calle 4ta Sur – San Francisco – Panamá) – One of my favorite places to eat a good steak.  Their specialty is the Argentine Parrillada with great cuts of meats.   If you are vegetarian… don´t even try it!

MATSUEI (Eusebio A. Morales 12A)  Matsuei is one of my favorite Japanese restaurant in Panama and one of finest sushi and raw fish experiences.  They offer a varied of Imported fish from unagi (eel) to maguro (tuna).   The owner is an excellent chef and always welcoming new guests.
MAKOTO (Avenida Samuel Lewis con calle 59, Obarrio., Edificio Kenex Plaza Piso 11, Panamá) beautiful open terrace and views from Panama.  This Japanese contemporary restaurant offers a wide variety of gastronomic experiences.  Ramen and Pork chops and chili edamame are very good.
Restaurants outside Panama City:
LOS CAMISONES (Pass Coronado and Santa Clara Beaches and you will find the entrance on your right.) – Seafood Specialists. Try the shrimps with garlic sauce and coconut rice. Delicious!
CASA DE LOURDES (El Valle) – One of Panama City's best chefs (Golosinas Restaurant) has created an Italian villa weekend retreat in the "hill station" of El Valle de Anton. The food is rich, inventive, nouvelle gourmet with wonderful Panamanian accents. Excellent wine selection and an experience not to be missed as you dine poolside with Lourdes.
EL SITIO-(Playa Venao, Pedasi) – Very good atmosphere, beach front and one of the best restaurants in the area.  Their specialty is Octopus Pad Thai, not to be missed.
CUATRO (David) – a place of unique flavor in Chiriqui province.  A Panamanian style food with a touch of quality.  Try the ribs, fresh tuna among other options.
PANAMONTE (Boquete) – This charming restaurant is one of the best in the highlands. Inventive dishes based on traditional Panamanian cuisine include pumpkin soup, shrimp-and-plantain croquettes, mountain trout sauteed with almonds, and grilled beef tenderloin topped with a three-pepper sauce. It's served in a historic European atmosphere that's hardly changed over the past century. Sunday breakfast is popular.  My favorite:  Egg Benedict with Panamanian Tortilla.
RETROGUSTO & BUTCHER Chophouse (Boquete) – these two restaurants are adjacent to each other and below to the same owner.  Retrogusto offers great Italian and international dishes while Butcher chophouse specializes in meats.   If you are in Boquete try one of those two.
THE ROCK (Boquete) –  A very nice atmosphere and different options.  Ribs and burgers are very good and the garlic soup not to miss.
EL PIANISTA (Boquete) – An Italian in the highlands offers a wide selection of dishes.  Pizzas, Parmesan eggplant, risottos and more.  The ambiance is nice, close to a river and with a good selection of wines.
GUARI GUARI (Bocas del Toro)  –  This restaurant should not be missed while visiting Bocas! It is not easy to find but the food is very good!
THE FIREFLY RESTAURANT & BAR (Isla Bastimentos, Bocas del Toro) beautiful and romantic ambiance and you will need a reservation.  It is a tapas style and my favorite is the ahi seared tuna and the prawn skewers and very good cocktails.
Nightlife in Panama City – Bars
Casco Viejo is the place to go at night in Panama City. Stroll the cobblestone streets at night and you can discover always a new fun place. Also, explore the City and the new breweries that are popping up in different neighborhoods.  Some suggestions:
GATTO BLANCO (Casco Viejo)  This is one of my favorite little bars in Casco.  Located on the rooftop of Casa Nurati Hotel you can find this rooftop that offers a great view of Panama Skyline and a relaxed setting.
DIVINO ENOTECA (Casco Viejo) – Opened by three friends united by the same passion for wine, DiVino Enoteca specializes in serving quality, international wines. The bar hosts educational tasting nights for those interested in boosting their wine knowledge and offers tapas style plates with an Italian touch.
TANTALO (Casco Viejo) Located on the rooftop of Tantalo Hotel, this small rooftop bar has nice views of the City skyline and the Old Quarters.  Very nice ambiance and usually good DJs.  The drinks are a bit expensive. 
DANILO PERREZ JAZZ BAR (Casco Viejo) Located inside the American Trade this bar feature excellent bands and if you are lucky you can see Danilo Perez playing.
BARLOVENTO (Casco Viejo).  The good thing is that the entrance is free for women.  This is a relaxed bar that offers views of Casco Viejo at night and a nice screen.  Nice ambiance and good for dancing. 
CASA JAGUAR (Casco Viejo)  Another bar that is usually free for girls. A very nice ambiance, good music, excellent drinks, but a bit pricey.
RELIC BAR (Casco Viejo) Located on the bottom floor of Luna Castle Hostel, this rustic bar offers an indoor and outdoor areas.  Indoor, depending on the hour of arrival, it might be crowded and the music is loud. Outdoor it´s more relaxed, offering tables and chairs so you can sit, talk and have some drinks.   This is a laidback place where backpackers and a young crowd hangs out.

CASA CASCO (Casco Viejo)  is a perfect mix of antiquity and avant-garde divided into 5 floors, where you can enjoy 3 fabulous restaurants, a Club-Disco and a Terrace (Rooftop) with a panoramic view of the city.  The food is not the best but the ambiance at the Rooftop is fantastic.  This is a great place for cocktails and drinks.
TEATRO AMADOR – (Casco Viejo Calle 11 & 12 Avenida Central) A historic theatre converted into a nightclub. A true nightclub atmosphere, with dancing, live DJs, big parties, and late nights. There is also a cultural space and movie theatre. Dress code enforced at door; wear something nice. Cover charge on the weekends.
STRANGERS CLUB – (Casco Viejo)  This is a very small bar/restaurant that specialize in amazing cocktails and tapas.   It offers great music, a very good environment and is a good place to meet people.
EL SOTANO/EL APARTAMENTO (Casco Viejo) Location: Bella Vista. Entry fee: Depends on the event.  In El Sotano you can find live rock music and by going up the stair you arrive at El Apartamento where you can find indie music and have some drinks. They have several events during the month with themes or even special DJs.
BAR Hoping in CASCO VIEJO there is always a new  spot,  place, bar or restaurant in Casco and new rooftops to enjoy a cocktail.  Just explore the area at night and you will discover good places and vibes.
1400 ROOFTOP BAR (Blue Bay Hotel in Obarrio)  From 6:00 pm to 9:00 pm they have promotions in Champagne and Sushi. After 9:00 pm, on Thursday, Friday and Saturday they offer a variety of music. They have an outdoor area.
Beer & Rum Bars in Panama City
Some of these bars offer local craft beers, national beers, and original house brew beers.
BIER KLOOSTER (Calle Jose D. de Obaldia, PH Casa Neuman, Local 6. Frente a Felipe Motta, Casco Antiguo).  This is one of my favorites spots in Casco Viejo.  They specialize only in Belgian beer on draft.  The french fries and mussels are fantastic and the service is amazing!!  Don't miss it if you are in Casco Viejo.  My favorite beers Delirium Tremens and the Red.
CASA BRUJA  (Costa del Este) This is a brewing company that produces very good beers since 2013.   They create quality and very different beers.  My favorite LA FULA beer!
PEDRO MANDINGA RUM HOUSE (Casco Viejo)  If you like rum like me you must try this small place.  This is a small craft rum distillery that use raspadura for a very tasty flavor and their rum bar is located in Casco.  Pedro Mandinga was a Panamanian Cimarron chieftain, who was strong, charismatic and friendly.   Don't miss it!
LA RANA DORADA  (Casco Viejo and Avenida Eloy Alfaro and Calle 11) –  A very original pub offers good homemade local beers.  The brewery, which can be glimpsed from the interior of the restaurant, adds to Rana Dorada's beer-themed décor.  They offer good pizza and the pub serves premier pilsner, pale ale, blanche and porter beer, all brewed in-house.
THE BREW STOP (Calle Andres Mojica & El Cangrejo) This pub is great for beer lovers, good ambiance, excellent selection of local and international beers and my favorite: good apple cider.  The owners are into details and made this place of the best bar experiences in town.
REPUBLICANO (Avenida Cincuentenario & Coco del Mar)  The atmosphere is cozy and is a good place to enjoy a burger and craft beer with friends.   This is a favorite among my friends.
ISTMO BREW PUB (Condado del Rey, San Francisco y el Cangrejo)  They offer entertainment (pool table), food and a wide variety of local, crafted and international beers.
LYNCHBURG (San Francisco, 16 Avenida 4 C S, Local 15)   this pub serves authentic German food with a wide selection of specialty beers! They also have live music a few nights a week.
One of my favorite old spots:  STEINBOCK   (Via Cincuentenario)  Another great restaurant serving authentic German food and international beers in a cozy atmosphere. Located in Coco del Mar.